Blades:Food
The UESPWiki – Your source for The Elder Scrolls since 1995
Food items are interactable consumables found throughout dungeons that restore varying amounts of missing health. They will have a glowing golden sheen to set them apart from other objects. Trying to eat a food item when at full health will not work, as it will not restore/overheal and remain uneaten, but activating it will count toward a related special challenge. Food cannot found in the Abyss.
Perishables
[
edit
]
Horker Loaf
[
edit
]
Horker Loaves are found in forts and crypts, often on tables.
Sweetroll
[
edit
]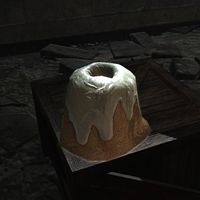 Sweetrolls are found in forts.
Venison
[
edit
]
Venison can be found on the metal skewer lines of cooking pots.
Wilderness
[
edit
]
Various flowers function as food and restore health.
Thistle
[
edit
]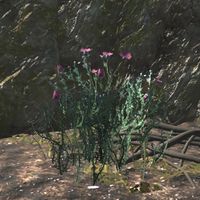 Thistles are found in forests, they restore health.
Fungi are found in forests and caves, they restore health when consumed. Fungi vary in size and colour, some fungi are short with flat caps others have taller stalks with two caps.
Consumable fungi can be found alongside small grey fungi that cannot be interacted with.
Glowing Mushroom
[
edit
]
Challenges
[
edit
]
Eat 10 food items
Find 16 food items